06 Okt

MCP ROUND 7:RACE REPORT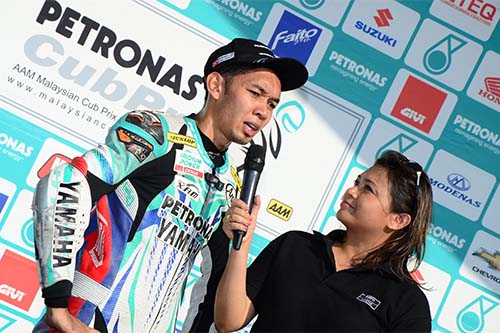 In a twist of events, it was Mohd Zamri Baba who became Yamaha's best man in the CP130 race at Temerloh, Pahang for Round 7 of the PETRONAS AAM Malaysian Cub Prix Championship.
The PETRONAS Yamaha-CKJ rider completed the grueling 18-lap race within 15'05.824s in third place after a hard fought battle with Mohd Affendi Rosli, Mohd Zaqhwan Zaidi and Mohd Ramdan Rosli (PETRONAS Syntium Moto Yamaha AHM).
To cross the finish line in first place with 14'59.499s was Norizman Ismail while Zaqhwan came in second within 15'00.778s.
Pleased with the outcome, Zamri commented, "Today was a great day for the team. Although we did not win, stepping up the podium is good enough because in the past two rounds we struggled a bit."
The 30-year old went on to add, "As for the race, it was challenging as always. Norizman and Affendi had superior bikes and they had a strong team strategy. In the early parts I tried to make a pass on Affendi but almost crashed so I held back my pace waiting for a perfect time to strike. The opportunity came when I out braked Affendi at the last turn. From there I tried to close the gap with Norizman and Zaqhwan but it was already too late. Thanks to the team for doing a great job setting up the bike here in Temerloh."
CP115
Meanwhile Motul Yamaha YY Pang's new addtion, Ahmad Abdul Kadir and Batu Kawan winner, Tengku Amirul Haffiruddin took a one-two victory in a dramatic CP115 race.
Ahmad who missed out Round Three, Round Four and Round Five following internal troubles with his former team completed the 15-lap race within 12'57.068s after leaders, Ahmad Afif Amran (PETRONAS Yamaha-CKJ), Mohd Amirul Ariff Musa, Mohd Hafiz Nor Azman (PETRONAS Syntium Moto Yamaha AHM) crashed while leading the race.
Tengku Amirul trailed his teammate to take second spot on the podium with 12'57.224s while Sasitharen Sukumaran completed the podium steps in third place with 12'58.247s.
Even so Afif DNF the 15-lap race, his lead in the CP115 overall standings remains intact with 11 points while Hafiz who finished sixth sits in second with 96 points followed by Amirul third, 85 points.
WIRA
The WIRA category was not without it's own drama but it did not deter Mohd Shafiq Rasol from securing a podium finish in Temerloh.
The Warner Pumps-YSP rider came in second behind Ahmad Syukran Aizat after a number of race leaders which includes teammate, Mohd Hafiza Rofa crashed.
Third came in Mohd Fairuz Nasir.
YAMAHA 135 SUPER SERIES PETRONAS
A picture-perfect weekend for Mohd Ibrahim Mohd Norrodin when after wrapping up Timed Practice session as fastest, he accomplished another victory by winning the final race in the Yamaha 135 Super Series PETRONAS.
His win however was not an easy feat when he first had to duel with Mohd Helmi Azman until the latter crashed out in the eleventh hour. Other than Helmi, Ibrahim had no real challenge when current chart leader Mohd Azam Omar was out of the way having to start from the back.
Ibrahim finished his race in 8:56.044s and coming in second was Kasma Daniel Kasmayudin, another gifted young rider in the series. Kasma did fairly well despite a few letdowns over the past few rounds.
Kasma timed his in 9:06.941s.
Another potential face to the Yamaha podium, Saiful Izman Ahmad Zamani came in third after having gone through quite a bit of a hurdle especially with the completely new track of Temerloh.
Winner Ibrahim said, "The race was thrill and suspense especially when I had Helmi trying to hinder my chance of winning. When he crashed, it was quite a smooth sail all the way to the end."
Azam still leads overall standings with 134 points with Ibrahim getting near in second with 111 points. Kasma Daniel sits comfortably in third with 98 points.
For more info and results, please visit www.malaysiancubprix.com