22 Sep

MCP ROUND 6:RACE REPORT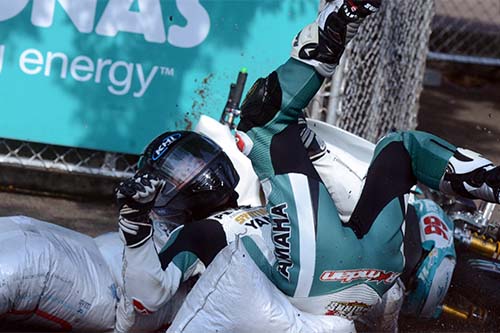 CP130 Mohd Ramdan Rosli ran out of luck in Round 6 of the 2013 PETRONAS AAM Malaysian Cub Prix Championship as the youngster lost his CP130 lead after he DNF the final race at Stadium Kluang, Johor.
The PETRONAS Syntium Moto Yamaha AHM representative crashed out of the grueling 18-lap race at the last turn with eight laps to go.
Ramdan was not the only one struck with bad luck as leaders, Mohd Affendi Rosli and Mohd Zaqhwan Zaidi also retired having crashed at turn 3.
Winning the CP130 instead was Mohd Fitri Ashraf Razali. The 19-year old recorded his maiden premiere class win at 14'17.368s after taking lead from retired front row starters, Affendi, Ramdan and Zaqhwan.
Norizman Ismail finished 2.103 seconds behind his junior with 14'19.471s while Elly Idzlianizar Ilias locked the podium with 14'19.789s.
Ramdan's failure to finish on the podium saw the 17-year old drop to third overall with 75 points while Norizman takes the lead with 82 points.
Faito Yamaha Motobert's Ahmad Fuad Baharudin sits in second overall with 81 points.
CP115 Meanwhile Fakhrusy Syakirin Rostam Rostam bounced back from a two-round absence to score his third CP115 win for the season.
Fakhrusy rider slipped through a pile up at Turn 1 to take charge of the 15-lap race, leading it all the way to the finish line within 12'06.646s.
2.212 seconds later came in CP115 Championship leader, Ahmad Afif Amran (PETRONAS Yamaha-CKJ) with 12'08.858s followed by Saturday's quickest rider, Mohd Hafiz Nor Azman (PETRONAS Syntium Moto Yamaha AHM) third, 12'10.706s.
Bagging 25 points from this round, Fakhrusy moves up to third overall in the CP115 standings with 75 points. Ahmad Afif continues his lead with 111 points while Hafiz sits in second with 86 points.
WIRA Warner Pumps-YSP duo, Mohd Hafiza Rofa and Mohd Shafiq Rosli dominated the WIRA category with a one-two finish having started the race side-by-side from front row.
The duo put on an impressive pace to lead the 12-lap race from start to finish with Hafiza taking the chequered with 9'49.377s ahead of Shafiq with 9'49.513s.
Mohd Syafiq Rosli (YAM Hyperspeed Honda Racing) completed the podium steps with 9'50.624s.
With this win Hafiza extends his lead to 140 points in the WIRA overall standings, 43 points clear of Syafiq (97 points) followed by Shafiq third, 72 points.
Yamaha 135 Super Series PETRONAS Having to start the race from the fourth grid did not deter overall leader Mohd Azam Omar from garnering precious points in the final race of the Yamaha 135 Super Series PETRONAS.
The gripping last-minute action from the Terengganu-born saw Azam went beyond two other riders in front of him, race leader Mohd Khairul Ikhwan Ajis and Mohd Helmi Azman while the two were having a battle of their own for top spot.
Azam ended his eighth leg run in time of 8:36.787s followed by Helmi with a 0.301s gap behind.
Khairul Ikhwan meanwhile had a good day turned bad when he actually led the race from start but had to be content with Azam's split-second move and Helmi's talent to sit in third place recording 8:37.150s.
Azam now stands tall on top of the overall chart with 126 points and Mohd Ibrahim Mohd Norrodin with 86 points in second place. Helmi sits comfortably in third with 80 points.
For more info and results, please visit www.asiaroadracing.com