08 Dis

MCP ROUND 10: RACE REPORT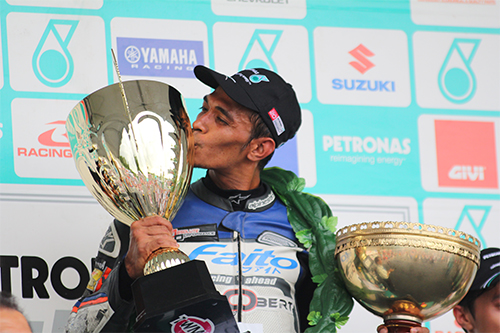 Ahmad Fuad Baharudin rounded up the 2013 PETRONAS AAM Malaysian Cub Prix Championship in spectacular fashion when he successfully lifted his third CP130/Expert title at Shah Alam after taking a dominant victory at Shah Alam today.
Whilst championship rivals, Norizman Ismail and Mohd Zaqhwan Zaidi endured a luckless race which saw them finish 12th and fifth respectively, Fuad dominated the race from pole, unchallenged to the finish line, ultimately completing the 18 lap race with a 2.278 second gap.
Fuad claimed his third win for the season after Malacca (Round 2) and Jempol (Round 8) with 17'54.609s followed by Yamaha Maju Motor's Ahmad Fazli Sham and Mohd Fitri Ashraf Razali third, 17'56.887s and 17'58.150s respectively.
Hauling maximum points, Fuad was crowned champion with 153 points, a 22 points advantage over runner-up Norizman (131 points) while Zaqhwan locked out the top three (122 points).
"I'm overjoyed. We went through a very tough season, making improvements step by step, never really pushing our luck or taking too much risk with the bike. Come the final round, we had one of the most competitive bike. Thanks everyone, especially the team, our sponsors and family for believing in us," said the 34-year old.
Fuad who won the championship in 2002 and 2010 went on to reflect on the race and commented, "It was unpredictable. I was prepared for an all-out battle with Norizman and true enough we were fighting for lead in the first three laps. I got worried because physically I was not fit due to fever but to the team's surprise, Norizman had some problems with the bike and he dropped down the order. I capitalized on the situation to push on before slowing down in the last four laps."
Meanwhile, Mohd Shariffudin Shamsuddin could not ask for a better ending to what has been a difficult year when he chalked up his maiden victory for the season in the CP115 category while teammate, Ahmad Afif Amran suffered a bad start to finish seventh.
The PETRONAS Yamaha-CKJ rider put on an aggressive pace to power his machine to take the holeshot and deny the charges that came in the form of Mohd Izzat Zaidi Salehan and Tengku Amirul Haffiruddin.
Both Motul Yamaha YY Pang riders tried very hard to get ahead of their rival but ran wide with five laps remaining, giving Shariffudin the opportunity to slip away and win the race with 15'09.162s.
Picking up 25 points, Shariffudin scaled the standings to fifth overall with 93 points. Teammate, Ahmad Afif Amran who had already secured the title last month in Sepang amassed 170 points followed by Mohd Amirul Ariff Musa (Givi Honda Yuzy Pachie) second with 138 points and Mohd Hafiz Nor Azman (PETRONAS Syntium Moto Yamaha AHM) third, 115 points.
Additionally, both Shariffudin and Ahmad Afif's top ten finish also helped them seal the best team award for the CP115 category (263 points).
Lastly, Mohd Adam Norrodin exploded to his second victory for the season when he dominated the age-capped WIRA at Shah Alam. The privateer took full advantage of pole position to quickly pull away from the chasing pack, ending the race with 12'19.009s.
Runner-up positions was completed by Kasma Daniel Kasmayudin (Permata Budimas aFB Tech) and Mohd Syafiq Rosli.
Kasma who also stepped on the podium in the Yamaha 135 Super Series PETRONAS earlier today timed 12'20.853s while Syafiq settled for third,12'21.199s.
As for the standings, Mohd Hafiza Rofa who had already secured the title in Jempol (Round 8) received his WIRA overall trophy with 171 points followed by Syafiq (135 points) second and Syukran (115 points) third.