07 Dis

MCP ROUND 10: PRACTICE REPORT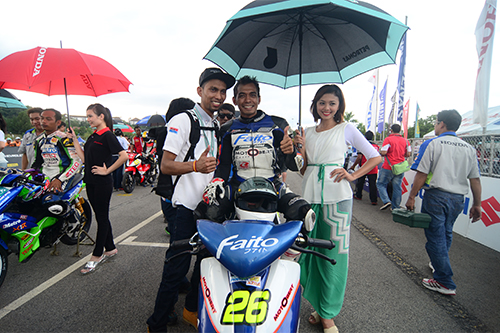 Although still recuperating from a high-fever, Ahmad Fuad Baharudin impressed in the opening practice for the final round of the 2013 PETRONAS AAM Malaysian Cub Prix Championship in Shah Alam today.
The Faito Yamaha Motobert rider led the way by setting an early 58.954s benchmark that would remain unbeaten for the remainder of the 20 minute practice. The morning session which was affected by light rain saw the 34-year old Fuad clock 1'06.975s in FP1 and 1'05.293s for FP2.
Title contender, Norizman Ismail was second quickest with 59.146s having recorded his best lap towards the final moments of the practice followed by teammate and Sepang winner, Elly Idzlianizar Ilias with 29.228s.
Rounding up the top five were Mohd Affendi Rosli and Mohd Fitri Ashraf Razali.
"I did not expect to clock the best lap time today because I am still feeling under the weather," said Fuad who leads the championship with 128 points.
"We did good today for sure but we can't afford to get comfortable yet. Right now we have the pace going through the corners but lack speed on the front and back straight which is very crucial because this is where the Honda teams are strong. The team will sit down later and discuss how to boost up the bike's performance."
Talking about his outing here at the Shah Alam Go-Kart Circuit, Fuad commented, "Most of the CP130 riders enjoy riding here. It's very technical and challenging not only for the riders the mechanics as well. I hope it will be a permanent venue on the race calendar in the coming years."
Meanwhile Mohd Hafieenaz Ali impressed rivals to set the quickest time in the CP115.
Hafieenaz of Faito Factory Racing clocked his best lap at 1'00.228s while Mohd Izzat Zaidi Salehan of Motul Yamaha YY Pang settled for second fastest with 1'00.344s followed by PETRONAS Yamaha-CKJ's Mohd Shariffudin Shamsuddin third, 1'00.431s.
"In the past couple of rounds the team has been improving a lot. At the start of the season we could not even make it to the midfield but now we are fighting with the top guys. Hopefully I can get a good start position tomorrow and finish on the podium. That would be a great end to a difficult season," said Hafieenaz.
Lastly, Khairul Idham Pawi set the fastest lap in the age-capped WIRA class. 1'01.072s ahead of Khairul Ikhwan Ajis and Mohd Syafiq Rosli with 1'01.514s and 1'01.710s respectively.