24 Nov

MCP RD10: AFIF ANXIOUS AHEAD OF INTENSE THREE-WAY BATTLE FOR RUNNER-UP POSITION IN KEDAH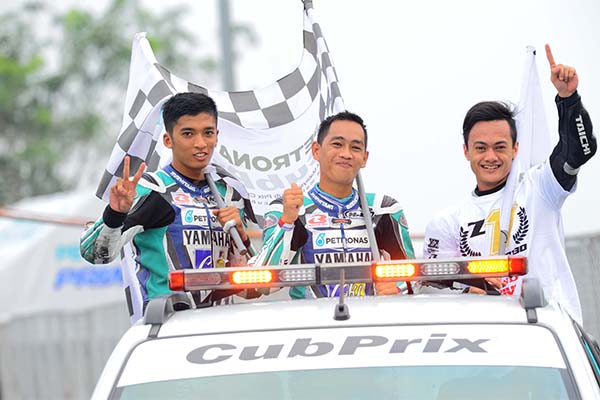 Ahmad Afif Amran admits that he is nervous ahead of the 2014 PETRONAS AAM Malaysian Cub Prix Championship season finale where he will battle seasoned contenders, Norizman Ismail and Affendi Rosli for the second overall position in Alor Setar, Kedah this weekend.
Afif heads into the season finale with a 10 point advantage over two-time champion, Norizman (Harian Metro Y-TEQ SCK Honda Racing) and Affendi who are joint second in the standings with 121 points while Givi Honda Yuzy Racing's Zaqhwan Zaidi had already clinched the CP130 title in the penultimate round in Jempol earlier this month.
The PETRONAS Yamaha CKJ rider commented, "Alor Setar won't be an easy race and I am quite nervous about it. Being 10 points ahead is good, but this gap is not sufficient enough to play a passive role this weekend if I intend to conclude the season behind Zaqhwan."
He added, "Norizman and Affendi are highly experienced riders and both of them want to win in Kedah and try to take the second position away. I must go all out to finish the last race of the year with a victory, just like our aim in any other race."
Although nervous, Afif believes he has what it takes to finish ahead of his experienced rivals following an encouraging rookie campaign that saw him win the race in Muar and Teluk Intan while he finished the races in Terengganu, Melaka and Jempol on the podium.
"We are in a good position to defend second overall. My riding is optimum and I believe the team can prepare a competitive bike this weekend. We just need to gather some data during the practice session and make adjustments accordingly because Alor Setar is a new track."