02 Nov

MCP RD09: RACE REPORT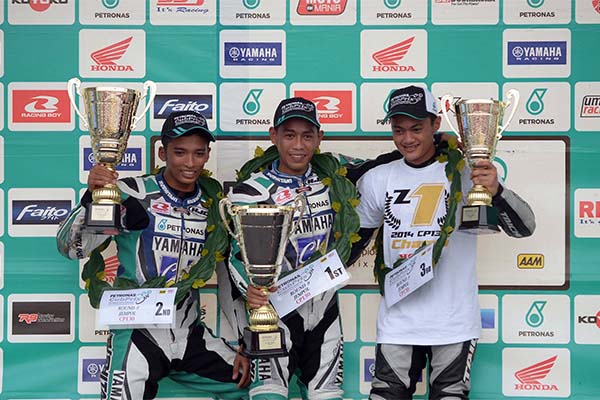 Mohd Zaqhwan Zaidi clinched his maiden CP130 title with a comfortable third place finish in Round 9 of the PETRONAS AAM Malaysian Cub Prix Championship in Jempol, Negeri Sembilan on Sunday while Mohd Affendi Rosli won the race with a brilliant performance.
It was a dream weekend for Zaqhwan after the only man who could stop him, Norizman Ismail came in eighth.
Zaqhwan was in solid form to qualify for front row and made a good start when the lights went off but deteriorating track conditions forced him to be cautious.
Even so, that did not stop the 19-year old from punching through Mohd Iskandar Raduan, Mohd Zamri Baba and Ahmad Fazli Sham to finish the race in third place with 14'46.782s, ultimately sealing the title with 161 points.
Affendi (PETRONAS Yamaha CKJ) meanwhile put in a spectacular performance to dominate the entire 18-lap race in 14'44.125s while teammate, Ahmad Afif Amran came second, 14'45.911s.
"I am lost for words and over the moon," said an emotional Zaqhwan.
"We came to Jempol aware we could secure the title given the point advantage, but to actually win it, nothing can prepare you for that. I am really overwhelmed right now. A million thanks to my manager, Shahrol Yuzy for guiding me to this very day and congratulations to the team who has been working endlessly to make sure I win this championship. You guys deserve this," he added.
Reflecting on the race, Zaqhwan commented, "This must have been one of my toughest races since stepping up to the CP130. It felt like everyone wanted to stop me and the battles were close."
"Naturally I wanted to win but Affendi had a better start and managed to get the holeshot. I was riding sixth and struggled to get ahead and I really had to push to get ahead of Iskandar, Zamri and Fazli. Once I passed them it was between Afif and I but at that point my bike was already at its limit. If I pushed it any further, we would have ended up crashing so I chose to play it safe to the finish line."
The penultimate round of the Malaysian Cub Prix Championship also marked a memorable occasion for Mohd Izzat Zaidi Salehan as he secured the CP115 overall title when closest title rival and teammate, Zaidy Mohd Zaifaizal finished seventh.
The Motul Yamaha YY Pang ended the chase in style by winning the 15-lap race in 12'30.085s, ahead of seasoned contender, Elly Idzlianizar Ilias with 12'31.023s.
Abdul Muhaimin Roslan (PETRONAS Yamaha Maju) came in third 12'33.743s.
"To be frank, I did not expect to win the crown with one more race to spare. I expected Zaidy Zaifaizal to finish quite close to me," said an elated Izzat.
"Nevertheless, it was far from an easy race. Elly used all his experience to deny me the lead in the first three laps. But then he made a mistake and lost control of his bike. I took that opportunity to slip through, build a gap and maintain a consistent pace to the finish line."
Izzat who won the title with 178 points went on to add, "I am extremely happy to win the championship but this victory does not just belong to me. It also belongs to the entire Motul Yamaha YY Pang crew, sponsors, family, friends and of course our die-hard fans. This win goes out to all of you."
Reigning WIRA Champion, Khairul Idham Pawi maintained his flawless run as he claimed his eighth successive victory in the age-capped category.
Khairul bounced back from a botched start to steal the lead from Fairuz Nasir (Felda Pbafb Tech Racing) before pulling away from the pack, concluding the 12-lap race in 10.01.312s.
Fairuz was forced to settle for second place with 10'12.012s while Mohd Afiki Supaat (Jetron Apido Team PJM) finished third in 10'12.176s.
The win gives Khairul a perfect total of 216 points with Afiki taking second 108 points back followed by Fairuz third in the rankings, 122 points adrift.