23 Ogo

MCP RD06:PRACTICE REPORT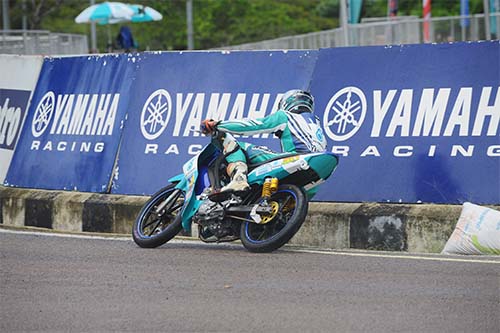 Ahmad Afif Amran arrives at Stadium Kluang, Johor for Round Six of the PETRONAS AAM Malaysian Cub Prix Championship in strong form as the PETRONAS Yamaha CKJ rider logged within the top five fastest CP130 riders in the opening practice on Saturday.
Hailing from Terengganu, Afif posted the fourth quickest time with 49.657s under wet conditions to become the only Yamaha rider in the top five.
Mohd Zaqhwan Zaidi led the premier class timesheets with 49.074s while Norizman Ismail posted the next best effort in 49.457s followed by Mohd Zamri Baba third, 49.639s.
This is the fifth time in succession Zaqhwan has topped the timed practice. Previously he came in quickest at Batu Kawan (Round 1), Muar (Round 2), Terengganu (Round 3), Melaka (Round 4) and Temerloh (Round 5).
Meanwhile Motul Yamaha YY Pang looks set to continue their domination when Mohd Izzat Zaidi Salehan clocked the fastest lap in the CP115 category.
Izzat posted the quickest time in the intermediate class with 49.127s ahead of Abdul Muhaimin Roslan (PETRONAS Yamaha Maju Motor) with 49.280s while seasoned contender, Elly Idzlianizar Ilias came in third in 49.355s.
Mohd Amirul Ariff Musa and Izzat's teammate, Ahmad Abdul Kadir rounded up the top five.
Khairul Idham Pawi on the other hand went fastest in the age-capped WIRA category in 49.112s to beat teammate, Harith Farhan Baharin who timed 49.784s while Yamaha one-make graduate, Mohd Azam Omar (PETRONAS Yamaha) registered third with 50.005s.