22 Jun

MCP RD05:RACE REPORT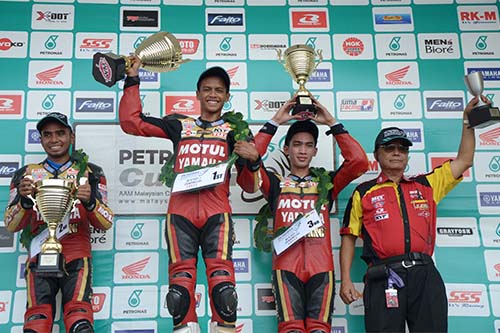 Motul Yamaha YY Pang Racing made their presence felt in Round 5 of the PETRONAS AAM Malaysian Cub Prix Championship with Mohd Adib Rosley clinching his maiden CP130 podium while Izzat Zaidi Salehan, Zaidy Mohd Zaifaizal and Tengku Amirul Haffiruddin swept the intermediate CP115 podium in Temerloh on Sunday.
CP130
Mohd Adib Rosley proved he was no pushover in the premiere class as he secured his maiden CP130 podium despite starting the race from second row.
In fact, the Motul Yamaha YY Pang rider had a smooth take off but an early error saw Honda representatives, Zaqhwan Zaidi, Norizman Ismail and Ahmad Fazrul Sham quickly pull away from the pack while Adib was left to battle it out in the second group.
By the time the race hit midpoint, the leaders had already created a huge gap but this did not stop Adib from surpassing his immediate competitors and finish the race third in 13'30.844s, his first podium since moving up to the CP130 category last year.
Zaqhwan won the race to secure a hat-trick in 13'24.203s while Norizman came in second with 13'30.788s.
Affendi of PETRONAS Yamaha CKJ took fourth while Mohd Azhar Abdul Jalil wrapped up the top five.
PETRONAS Yamaha Maju Motor's Ahmad Fazli Sham was absent from the race due to an injury sustained during Saturday's practice sessions.
Zaqhwan strengthens his lead in the championship standings with 100 points followed by Ahmad Afif Amran and Norizman Ismail who are tied at 73 points.
CP115
Motul Yamaha YY Pang swept the podium in the intermediate CP115, with Mohd Izzat Zaidi Salehan winning his second race for the season after Batu Kawan (Round 1) followed by Penangite, Zaidy Mohd Zaifaizal and Tengku Amirul Haffiruddin.
The all-red outfit dominated the entire 15-lap race and could have take the top four positions but Ahmad Abdul Kadir who was running in third crashed out of the race in the final lap.
Izzat wrapped up the race in 11'25.239s while Zaidy who was initially hunting for a hat-trick came in second with 11'25.387s followed by Tengku Amirul with 11'25.683s. Mohd Rozaiman Mohd Said and Mohd Syafiq Rosli finished fourth and fifth respectively.
Although it was Izzat who won the race Zaidy still remains in control of the CP115 overall standings with 103 points, 16 points ahead of Izzat with 87 points and Tengku Amirul third,75 points.
WIRA
Khairul Idham Pawi meanwhile secured his fourth consecutive victory in the age-capped WIRA category. The 16-year old completed the 12-lap race in 9'14.066s unchallenged with PETRONAS Yamaha's Mohd Azam Omar coming in second with 9'20.490s and Team Mos Track Pro Yamaha's Mohd Khairul Ikhwan Ajis third, 9'23.049s.
Picking up maximum points from this round, Khairul stretches his lead to a whopping 116 points,  45 points clear from Khairul Ikhwan in second place with 71 points and Mohd Afiki Supaat third, 70 points.
The 2014 PETRONAS AAM Malaysian Cub Prix Championship will take a break in respect to the fasting and Raya month and resume in Teluk Intan in Perak on 23 and 24 August.