01 Jun

MCP RD04:RACE REPORT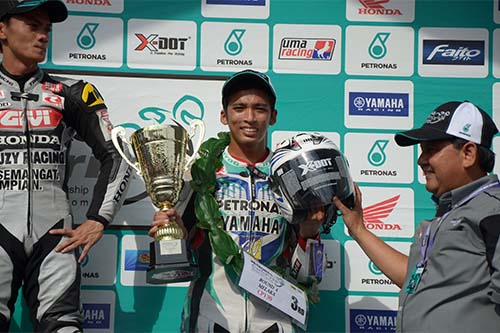 CP130
Rookie, Ahmad Afif Amran overcame an inferior setup to gallantly fight his way from fifth to third while Ahmad Fazli Sham who started from second could only finish eighth in the Melaka PETRONAS AAM Malaysian Cub Prix Championship.
Mohd Zaqhwan Zaidi fought back from a dismal start to chalk up his second successive CP130 win after Terengganu and his third win for the season.
Afif of PETRONAS Yamaha CKJ completed the grueling 18-lap race in 15'01.013s while Zaqhwan timed 14'54.947s followed by Norizman Ismail second with 14'57.588s.
With this win, Zaqhwan leads the CP130 standings with 75 points followed by Ahmad Afif and Norizman with 65 points and 53 points respectively.
CP115
Separately, Zaidy Mohd Zaifaizal clinched his second consecutive victory for the season and maintain Motul Yamaha YY Pang's perfect run in the CP115 category.
Initially the all-red outfit was aiming to sweep the podium clean with all three riders, Zaidy, Izzat Zaidi Salehan and Tengku Amirul Haffiruddin starting Sunday's race from front row. Unfortunately, Tengku Amirul had a bad start while poleman, Izzat was penalized for a jumpstart leaving Zaidy to fend off rivals alone.
Nevertheless the Penangite held his line strong to the finish line, wrapping up the 15-lap race in 12'47.227s ahead of Givi Honda Yuzy Racing's Amirul Ariff Musa who suffered front-brake issues with 12'49.020s and M Seki Liberty Honda's Mohd Syafiq Rosli third, 12'49.730s.
With this win Zaidy continues to lead the CP115 standings with 83 points. 20 points adrift comes in Amirul Ariff with 63 points followed by Izzat Zaidi third, 62 points
WIRA
Khairul Idham Pawi meanwhile celebrated a hat trick of wins in the age-capped WIRA class.
Khairul had an uninterrupted race, taking off from pole to finish the 12-lap race in 10'23.513s, 14.416 seconds ahead of Felda Pbafb Tech Racing's Saiful Izman Ahmad Zamani in second place with 10'37.929s while Jetron Apido Team PJM's Afiki Supaat wrapped up the podium steps with 20'40.008s.
Picking up another 25 points, Khairul Idham extends his lead to 91 points, 32 points clear from teammate, Harith Farhan Baharin and Afiki Supaat who are tied with 59 points in second and third place respectively.
YAMAHA 135 SUPER SERIES PETRONAS
Mohd Irfan Rosnizam couldn't have wished for a better weekend when not only did he went fastest on the Yamaha 135 Super Series PETRONAS practice, he also won the race itself almost effortlessly in the fourth round of the 2014 PETRONAS AAM Malaysian Cub Prix Champioship held in Malacca.
From the start, Irfan led the crowd of 17 Yamaha riders on the grid after a successful holeshot before maneuvering his way around the wet track due to the rain in the morning. With riders treading carefully, Irfan did not have much of a challenge except from Mohd Afizi Supaat and Shaikh Alif Nazirul.
Afizi kept on trying with Shaikh crashing out of the battle but somehow could not shake off Irfan of the lead. In the end, Irfan finished first in 9:14.848s with Afizi second in 9:15.642s. Safely tagging along from behind, Mohd Amirul Arif Ramlee sealed the podium steps in 9:16.134s.Mohd Isa Josri and Shaikh finished fourth and fifth.