24 Apr

MCP RD02:YY PANG HUNGRY FOR SUCCESS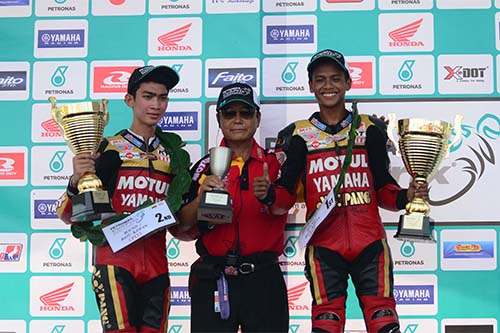 Motul Yamaha YY Pang manager, Pang Yoke You said he is more than pleased to see his riders are hungry for success as the all red outfit head to Muar, Johor for the second leg of the PETRONAS AAM Malaysian Cub Prix Championship this 25 and 26 April.
Pang, better known as 'Sifu' in the Cub Prix paddock described his team as a 'pack of hungry wolves' following an impressive performance in the opening round at Batu Kawan earlier this month which saw Mohd Izzat Zaidi Salehan and Tengku Amirul Haffiruddin work hand in hand to secure a one-two finish in the CP115.
Adding on to their delight, Mohd Azhar Jalil successfully bagged the team's first CP130 podium in third place behind Mohd Zahqwan Zaidi and Norizman Ismail.
"The last time we won any championship was in 2010 in the WIRA class through Adib Rosley who now races in the CP130 with Azhar. That was three years ago and our riders are really hungry for success, like a pack of hungry wolves. Everyone is motivated to win," said Sifu.
Although acutely aware of the desire within the team to become winners again, Sifu insisted the team should not get carried away by the early success, pointing out they were strong in the early parts of last season but could not hold out long enough when the championship battle went down the wire.
"Winning the first leg is a good start but there is a long season ahead and sooner or later rivals will catch up. This costs us the championship last year on top of the technical woes so it is imperative we keep our expectations in check and not get blown away by just one good outing.
"The championship is all about consistency so I hope my riders can finish as many races on the podium or at least within top five so they can be in contention for their respective titles right to the very end," he added.
Speaking about his expectations in Muar, Sifu commented, "Definitely it will be another close race, particularly in the CP115. Elly Idzlianizar Ilias is a very experienced rider and his presence has certainly shaken up the grid. If not for the technical blunder he faced at Batu Kawan, he could have easily fend off Izzat and Tengku Amirul. In that sense, I suggest our riders to come up with a solid race strategy if they want to win again."