14 Okt

MCP: OBERT CONCERNED WITH RACE RESULTS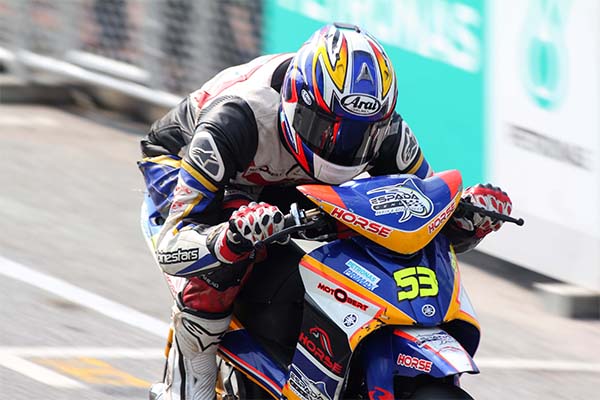 Espada Motobert Yamaha's manager, Rosnizam Mohd Noor has not had the best season in the 2014 PETRONAS AAM Malaysian Cub Prix Championship and he is hoping his riders can prove him wrong as they head to Round Eight in Kangar, Perlis this weekend.
For 2014, Rosnizam (Obert) brought in a new set of riders with Mohd Emir Firdaus Hasan and Mohd Hafizuddin Azahar in the CP130 while Mohd Rozaliman Zakaria competes in the CP115 but neither have been close to bagging a podium finish in the seven rounds that have passed.
At the start of the season Emir was tipped to be a regular podium contender given his vast experience in the national championship but for some reason things haven't clicked just yet.
Instead the Penangite often finds himself racing in the mid-pack and is currently ranked 14th overall in the CP130 standings with just 34 points, leaving Obert with some concerns.
"Last year we took the CP130 title through Ahmad Fuad Baharudin but this year things have been very difficult. To be honest we were expecting a couple of podiums or consistent top five finishes from our riders because we have provided them with a lot of useful data," said Obert.
"At the same time, we knew at the start of the season we had to be patient because our riders needed time to adapt with the new environment but our development has been quite slow both on the technical and rider side – putting us quite far back compared to the other teams. Nevertheless we look forward to Kangar and hopefully the team can produce stronger results there," he added.
Speaking about his expectations for Kangar, a track that has not been included the Cub Prix calendar for the past two seasons, "Perlis is neutral ground so it's hard to say who has the upper-hand so expect to see another close battle this weekend."