07 Jun

CUB PRIX ROUND 4: AZAM LOOKING TO SUSTAIN WINNING STREAK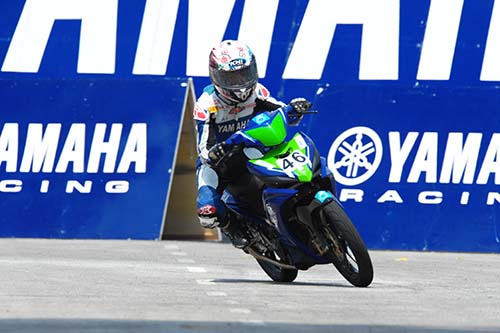 Satisfied with his performance, youngster, Mohd Azam Omar is determined to continue his winning streak in round four of the PETRONAS AAM Malaysian Cub Prix Championship in Muar, Johor this 8 and 9 June.
The 16-year old competing in the one make Yamaha 135 Super Series gained his confidence following an impressive run successfully three races in a row at Batu Kawan (Round 1), Malacca (Round 2) and recently hometown, Terengganu (Round 3).
With three consecutive wins, Azam leads the Yamaha overall standings comfortably with 75 points, 24 points ahead of Mohd Ibrahim Norrodin (51 points) in second place and 28 points ahead of Kasma Daniel Kasmayudin (47 points) third.
"Winning first three legs has been great and I'm pretty happy about that. I intend to continue winning in Muar but judging on the current pace, I need to work extra hard to achieve my ambitions," said a determined Azam.
At the same time, despite having proved his dominance in the first three rounds, Azam has no intention of under estimating his opponents.
He commented, "Right now it may seem like I have the upper hand but a rider can only stay in lead for so long. After a while, somebody else is bound to come along."
"Case in point, I almost lost it in front of my home crowd (Terengganu). Iqbal Amri Malek and Ibrahim improved a lot over the past two rounds and the race in Terengganu saw us fight from start to finish. There were a lot of overtaking between us and I took a huge risk to overtake Iqbal at the final turn of the last lap. If not for that, the hat-trick might just have slipped me. Hence, it is very important that I stay on top of my game when we get to Johor this weekend."
For more info and results, please visit www.malaysiancubprix.com