23 Mei

CUB PRIX ROUND 3: FAZRUL WANTS TO TURN CAMPAIGN AROUND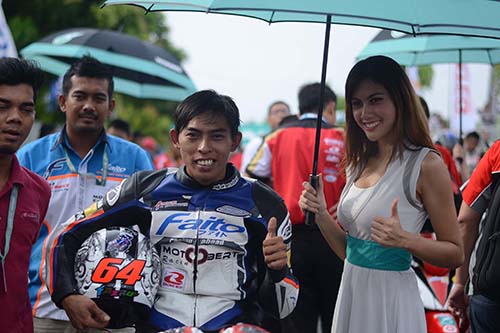 Ahmad Fazrul Sham hopes for a dramatic turnaround in fortunes in the third leg of the 2013 PETRONAS AAM Malaysian Cub Prix Championship at Stadium Sultan Mizan Gong Badak, Kuala Terengganu.
The Faito Yamaha Motobert rider is languishing in 15th position in the CP130 standings following a disappointing outing in the first two rounds this season at Batu Kawan (Round 1) and Malacca (Round 2).
Fazrul's best result so far is a 12th place finish in Batu Kawan and he currently sits on seven points – a massive 33 points behind leader, Mohd Ramdan Mohd Rosli (PETRONAS Syntium Moto Yamaha AHM) who is gunning for his maiden CP130 title.
By contrast, Fazrul's teammate, Ahmad Fuad Baharudin shares 38 points with Azlan Shah Kamaruzaman (Harian Metro Y-TEQ SCK Honda Racing) in third place having won the recent race and finished fourth in Batu Kawan.
"In Malacca I faced some technical issues with my bike and didn't get a lot of time on the track. Come the timed practice, the bike functioned perfectly but I crashed and this affected my mental strength on race day which took place under wet conditions. As for Batu Kawan, my poor performance was due to lack of practice. The first two rounds has indeed been really difficult for the team," said Fazrul.
The Terengganu track has traditionally played well for Fazrul in the past two seasons and the 28-year old has vowed to give his very best to resurrect an already faltering CP130 campaign this weekend.
"With a little bit of luck, hopefully things will change in Terengganu. I've had good memories there, coming in second in 2011 and last year fourth and I find the circuit suits my riding."
He went on to add, "Based on that, I feel confident that I can make Terengganu the turning point for my CP130 campaign. The team has already prepared a strong bike and I am focused on producing strong results."