12 Dis

ARRC RD06: PRACTICE REPORT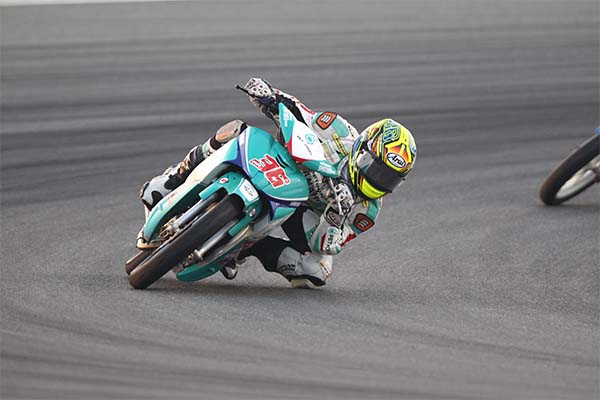 Indonesia's Yudhistira got off to a rapid start in the final round of the PETRONAS Asia Road Racing Championship as he topped the SuperSports 600cc opening practice at the Losail International Circui in Doha, Qatar on Friday.
The Manual Tech KYT Kawasaki Racing rider posted the best lap for the day in 2'05.063s in FP2 to finish 0.120 seconds faster than Musashi Boon Siew Honda's Mohd Zaqhwan Zaidi (2'05.183s). Third quickest for the day was Zaqhwan's teammate, Mohd Zamri Baba with 2'05.564s.
Earlier today, Yudhistira was fifth fastest in FP1, clocking his best time at 2'06.704s.
Rounding up the top five were Yuki Ito (PETRONAS Hong Leong Yamaha) and Makoto Tamada clocking their personal best in 2'05.745s and 2'06.250s respectively.
Second in FP1, championship leader, Katsuaki Fujiwara (BEET Kawasaki Racing) dropped to 11th in FP2 after he encountered setup issues.
"We made a good job today, testing the bike and the tyres so I am quite satisfied with the outcome. We want to end the season with a bang and this is a good start," said Yudhistira.
He went on to assess his outing today and added, "The team was focused on getting a strong lap time and they gave me a great package right from the start. However I was not able to exploit its full potential in FP1. But FP2 was different. I felt good on the bike and the tyre had strong grip although temperatures were quite low out on track. It's important that we keep working tomorrow so that we are ready to race on Sunday."
Meanwhile Team Honda RSC's Kazuki Masaki cast usual suspects into the shade as he dominated both Underbone 130cc practice sessions under the floodlights of the Qatari circuit.
Kazuki who won Race 2 last time out in Thailand (Round 5) clocked the fastest lap for the day in FP2 with 2'33.497s, shaving off 0.714 seconds off his best lap time in FP1.
Second quickest was Faito Factory Racing's Ferlando Herdian with 2'33.744s followed by championship leader, Gupita Kresna (Kawasaki KYT Rextor Manual Tech) third, 2'33.886s.
Malaysians, Mohd Amirul Ariff Musa (T.Pro Yuzy Honda) and Norizman Ismail (Harian Metro Y-TEQ SCK Honda Racing) completed the top five with 2'34.349s and 2'35.609s.
Khairul Idham Pawi showed no sign of slowing down as the newly crowned champion blazed to the top of the Asia Dream Cup timesheets.
The Malaysian who secured the title in Thailand last month in fact put on a menacing pace to top both practice session two seconds quicker ahead of the rest  of the field.
The 16-year old recorded his quickest lap in FP2 with 2'31.778s followed by Japan's Reitoku Kurogi and Teppei Nagoe who timed their personal best at 2'34.254s and 2'34.613s.
Indonesia's Aditya Pangestu came in fourth in 2'34.669s while Harith Farhan Baharin was fifth with 234.689s.