13 Ogo

ARRC RD03:AFFENDI TO MAKE AMENDS AT AUTOPOLIS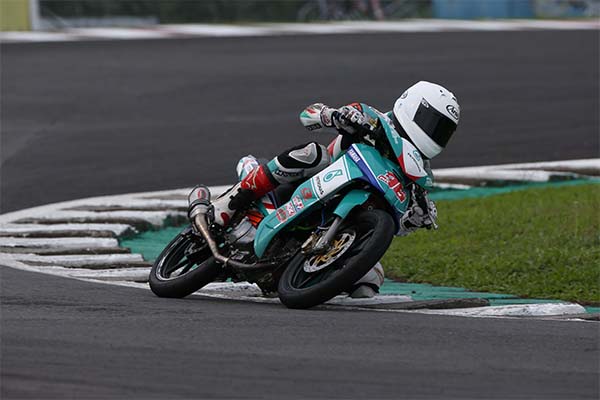 Refreshed from a month-long break, Mohd Affendi Rosli heads to the Autopolis Circuit in Japan for Round Three of the PETRONAS Asia Road Racing Championship hoping to turn his fortunes around following a disappointing run in Indonesia last June.
The PETRONAS Hong Leong Yamaha rider who took third place in Race 1 and finished second in the opening leg at Sepang went through a unsatisfactory campaign at the Sentul Circuit to retire from Race 1 that took place under extreme wet conditions before coming in 10th in Race 2.
Failing to get a substantial amount of points from Indonesia, Affendi dropped from second overall to sixth hauling 39 points, 31 points adrift championship leader, Gupita Kresna.
Second in the standings is Norizman Ismail while Affendi's teammate, Ahmad Fazli Sham holds third place with 52 and 45 points respectively.
"Sentul was a bitter outing. We had a strong bike but unfortunately luck was not on our side during the race. We intend to put that behind us and try harder in the next challenge in Japan," said Affendi.
Affendi's optimism for the Autopolis round is further boosted following the recent announcement Underbone 130cc category will now race on the full course at Autopolis and the iconic Suzuka Circuit.
"Personally I believe racing on the full course will be both challenging and fun. There will be more overtaking opportunities and the engineers will need to work quickly to find that perfect balance between engine durability and speed," he said.
Speaking about his target this weekend, Affendi commented, "My sights is always on the chequered flag. I want to be in the Underbone 130cc title chase to the very end and make my team proud."