14 Jun

ARRC RD02:FUAD BANKING ON UI'S EXPERTISE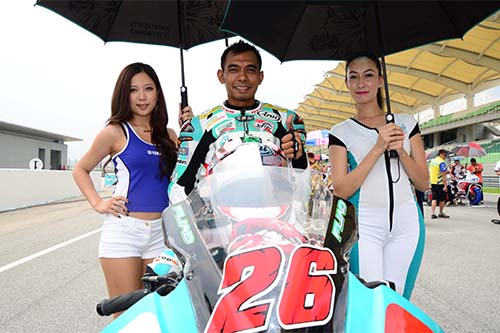 Seasoned contender, Ahmad Fuad Baharudin hopes PETRONAS Hong Leong Yamaha's trainer, Youichi Ui can help reboot his SuperSports 600cc career ahead of Round Two of the PETRONAS Asia Road Racing Championship at the Sentul International Circuit in Indonesia this weekend.
Fuad admits Youichi's presence in the team has helped him regain his long-lost form that led him to fight with regular podium contenders during the opening round at the Sepang Circuit in April – although a wrong tyre strategy and technical difficulties saw him finish both Race 1 and Race 2 outside the top-10.
The paddock was first introduced to Youichi in the 2011 season with PETRONAS Yamaha Malaysia which has now been renamed to PETRONAS Hong Leong Yamaha. Throughout his time with the Malaysian based team, Youichi has helped now Honda man, Mohd Zamri Baba amassed multiple wins despite the arrival of giants such as Katsuaki Fujiwara and Makoto Tamada.
"Youichi's presence in the team is crucial. Not only does he coach but he analyzes the data as well, giving engineers and the rider a better picture of which direction to take with the bike setup," said Fuad.
"Sepang was my first time working with him but the results were almost instant. I was able to post competitive lap times, just fractions away from the fastest rider and I was fighting with the front group in the race. It felt really good to be on the same level with the frontrunners," he added.
The 35-year old Fuad has been absent from the podium since he last rode for Yamaha in 2010 and in the past three years has struggled to break into the front group. Now back with his beloved Yamaha and with Youichi in the picture, Fuad believes there are no more excuses for not challenging for the podium in every race.
"I feel that I can have a fresh start to my Supersports 600cc career this season with Youichi. He has in depth knowledge both as a rider and as an engineer and I believe we can use this to our advantage," he said.
Speaking about his targets for the Indonesian round set to kick off tomorrow, Fuad commented, "It would be great if I can win this weekend but at the same time, I have to be realistic because I am still in the process of adapting with the new bike having spent the past three years riding for Kawasaki. My target is just to finish on the podium, winning would be a bonus," said Fuad.