06 Okt

AN OVERALL GOOD PROSPECT IN MALACCA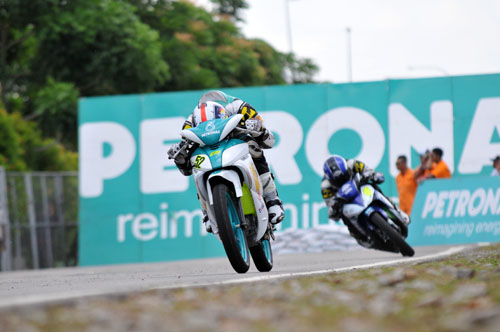 This time good track time marked Yamaha's promise of a great show bound for the finals of Round 8 of the PETRONAS AAM Malaysian Cub Prix Championship. Stadium Hang Jebat in Melaka once again took centre stage as host venue and Yamaha teams came with a barrage of their skillful riders on board their fine-tuned machines to open this round with a Timed Practice session.
Zamri Baba heads the CP130 pack for fastest Yamaha rider for the session. The PETRONAS Syntium Moto Yamaha Raceline rider clocked in 49.810s on the Melaka track to set himself up as 7thoverall. The experienced rider who maintained consistently clean lines throughout the session is expected to march up to the front line once the race starts.
A triple-threat match is bound to happen when Yamaha Maju Motor Racing's Mohd Taufiq Roslan, Ahmad Fazli Sham and Abdul Muhaimin Roslan recorded their fastest time side by side in 9th, 10th and 11th. The rising Taufiq will have to work harder to surpass the expertise of senior Fazli and peer Muhaimin.
PETRONAS Syntium Moto Yamaha AHM represented by Zulsyafiz Rosli had their share of the game when the rider set his time at 12th overall. His partner Ramdan Rosli is still recuperating from injuries sustained during a previous race.
Zamri Baba is still running in top ten overall sitting in number 8 with 56 points. It will be quite a challenge for him but the chance is still wide open to make up for lost grounds in the last few remaining rounds. Taufiq heads overall Yamaha in 7th with Muhaimin and Ramdan in 10th and 11th.
Yamaha Maju Motor Racing leads the Yamaha contingent in 5th overall on Team Awards with 80 points while PETRONAS Syntium Moto Yamaha AHM and PETRONAS Syntium Moto Yamaha Raceline trail behind in 6th and 7th.
The challenge for CP115 was more exciting when Ahmad Afif Amran of CKJ Yamaha Racing excelled in this session by being the second fastest rider overall behind Sasitharen Sukumaran. As fastest Yamaha rider for this class, Afif is expected to produce good results in the finals.
Afif made time in 50.729s ahead of Mohd Emir Firdaus Hasan in third while Mohd Azhar Abdul Jalil of Motul Yamaha YY Pang Racing made fourth fastest with his time : 50.814s. PETRONAS Syntium Moto Yamaha Raceline rider Mohd Hafieenaz Mohd Ali meanwhile clocked in his fastest at 51.043s in 5th overall.
Shahril Izzuwan Mohd Noor still leads the overall standings in this class with 101 points. The 2011 Champion will battle head to head with these newcomers for a showdown on Sunday while his team PETRONAS Syntium Moto Yamaha AHM also heads the overall pack.
It will be a fierce battle when Wira chart leader Hafiz Nor Azman will have to face his arch nemesis Fakhrusy Syakirin Rostam come final race. Hafiz of Mos Track Pro Yamaha Racing who clocked in at 50.743s has to go all out to defend his overall domination.
Tengku Amirul Haffiruddin of Motul Yamaha YY Pang Racing became fastest rider number three for the session while teammate Mohd Izzat Zaidi Mohd Salehan came in behind him. Hafiz now is still in the lead with 139 points with Fakhrusy just a few points behind.
Young riders in the racing scene for the Yamaha 135 Super Series PETRONAS saw chart leader Izzat Zaidi became fastest for the day. Izzat booked his spot for Sunday in 52.886s followed by Tengku Amirul and Nurahmad Fariznazreen to seal top three front grid positions.
With a line-up up of freshly motivated riders, the Yamaha camp this time around will surely put the action back into the game to wage their wars against their competition.